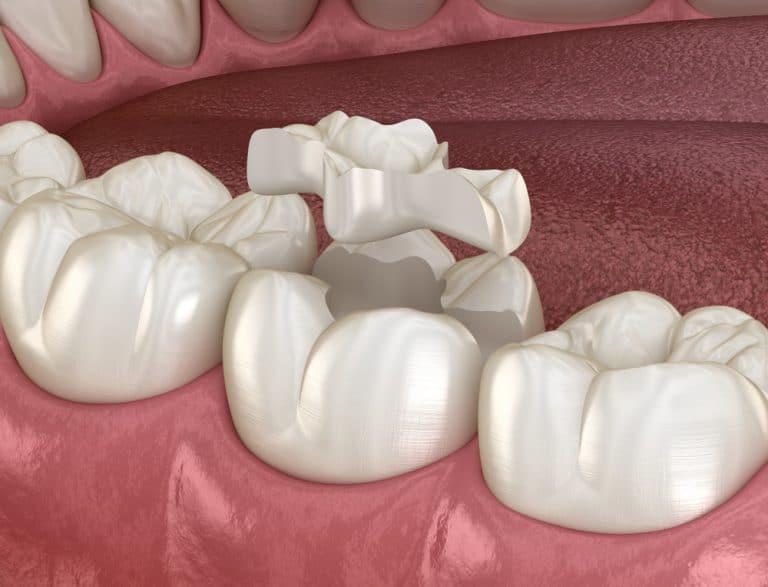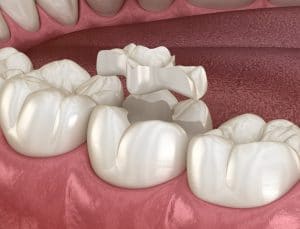 Do you have a damaged tooth that needs repairing? Our highly-trained cosmetic dentist at Flintridge Dental Studio can return the function and durability of your tooth with an inlay or onlay. Inlays and Onlays are made from composite or porcelain resin and are an excellent way to repair a tooth when a simple filling will not do.
An inlay is similar to a filling and used inside the cusp tips of the tooth. Onlays, on the other hand, require more work. They are comparable to an inlay but extend over one or more of the cusps of the tooth.
On your first visit, the decayed section of the tooth is removed. Then, the doctor prepares the tooth for the inlay or onlay. The doctor will take an impression of your tooth and forward the information to our dental lab. A temporary is placed on the tooth until the finished product is received.
On the second visit, the doctor removes the temporary and will check to make sure the inlay or onlay fits perfectly. If the fit is correct, the inlay or onlay is bonded to the tooth with a durable resin and polished to a smooth finish.
Traditional fillings are known to reduce the strength of a natural tooth. Inlays and onlays that are directly bonded onto the tooth with a special resin can increase the strength of a tooth. Inlays and Onlays are known to last for as long as 10 to 30 years.
Interested in learning more about Inlays and Onlays? Call our office at Flintridge Dental Studio today! Dial (818) 814-9732.